Raquel Amorese
Assistant Professor of Instruction
M.A. Baylor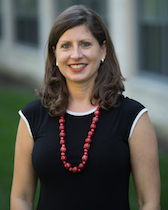 Raquel Amorese is an Assistant Professor of Instruction in the Department of Spanish and Portuguese where she teaches introductory and intermediate Spanish and Portuguese courses. Raquel currently coordinates the Portuguese Language Program.
She received a M.A. in Portuguese Language and Literature from the Pontifícia Universidade Católica do Paraná, Brazil in 2000 and a M.A. in Spanish Literature and Linguistics from Baylor University, TX in 2004. She also pursued graduate studies towards a PhD in Spanish and Portuguese at Vanderbilt University, TN.
Prior to teaching at Northwestern University Raquel taught courses in Portuguese and Spanish at Baylor and Vanderbilt universities, and for three years she served the College of The Albemarle in North Carolina.
Raquel's research interests are in Latin American Literature and Second Language Acquisition. She has a special interest in Latin American literature of the twentieth century, more specifically in literature written by women.
Raquel is passionate about teaching Spanish and Portuguese and is always looking for professional development opportunities in the field. She enjoys traveling and watching foreign movies.
Back to top