Elisa Baena
Associate Professor of Instruction
Ph.D. University of Illinois, Chicago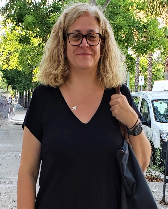 Associate Professor of Instruction, received her Ph.D. in Hispanic Linguistics from the University of Illinois at Chicago in 2004. In her time at Northwestern University, she has taught a wide variety of classes and now teaches mostly Spanish 203, Individual and Society through Written Expression; Spanish 280, Introduction to Spanish Linguistics; and Spanish 302, Advanced Grammar. She is a certified tester of the Spanish Oral Proficiency Interview (OPI) of the American Council of Teaching of Foreign Languages (ACTFL) and the DELE Spanish Diplomas (Diploma de Español como Lengua Extranjera) A1-C2 levels granted by the Ministry of Education from Spain. 
While at Northwestern, she has been named to the Faculty Honor Roll by the Associated Student Government (ASG) in 2007, 2015 and 2018; and received the Weinberg Arts and Sciences Alumni Teaching Award in 2014. 
She also serves as the Director of the Spanish Language and Culture Study Abroad Program in Barcelona, working in this capacity with the Study Abroad Office since 2008.

In addition to teaching and being the course coordinator for Spanish 203, she is the Portuguese Language coordinator and she serves in several committees across the university. Since 2015, she is the chair of the Weinberg Language Proficiency committee working in that capacity with AccessibleNU.
Back to top