Denise Bouras
Associate Professor of Instruction
M.A. University of Chicago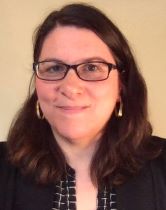 Denise Bouras is an Associate Professor of Instruction and the Spanish 204 Course Coordinator. She received her BA from Marquette University (1999), with majors in Spanish and Journalism, and earned her Master's in Spanish literature from the University of Chicago (2001).  Her current teaching/research interests include socially engaged art in Spain and Latin America, curricular design, second language writing and assessment, the role of emotions in the second language classroom and teaching grammar through literature.
 Denise has been teaching Spanish for 20+ years and her classroom is adaptable, inclusive, and interactive.  She has taught various courses in the department since arriving in 2007, including first- and second-year language sequences, conversation courses and writing sequences for majors/minors.  Her teaching style is intuitive and aims to create space for student input and to nurture student expression as they master the language and explore the foreign culture in relationship to their own in meaningful ways.
 Denise has been a member of the Council on Language Instruction since 2008 and is currently serving as the Teaching-track Representative and the Faculty Senate Representative for the Department of Spanish and Portuguese.