Chyi Chung
Professor of Instruction
M.A. Loyola University, Chicago; M.S. Tamkang University, Taiwan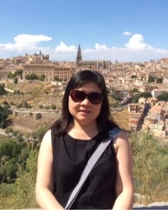 Chyi Chung is a Professor of Instruction in Spanish of the Weinberg College of Arts and Sciences at Northwestern University. She was born in Taiwan, grew up in Honduras and has lived in Chicago for 20+ years. She received her M.S. in Hispanic Studies from Tamkang University in Taiwan and her M.A. in Spanish Language and Literature from Loyola University at Chicago. She has taught undergraduate Spanish and Chinese language courses, graduate pedagogy and methodology courses at Northwestern since 1997 and has received several awards and honors from the American Association of Teachers of Spanish and Portuguese (AATSP), the Northwestern Weinberg College of Arts and Sciences Teaching Award, the Northwestern University School of Professional Studies Distinguished Teaching Award, the Faculty Honor Roll of the Northwestern Associated Student Government.
 Chyi holds the certification of Assessment of Performance toward Proficiency in Languages in Spanish (AAPPL) from the American Council of Teaching of Foreign Languages (ACTFL), the certifications in Teaching Chinese to Speakers of Other Languages (TCSOL) and in Teaching English to Speakers of Other Languages (TESOL) from the Center for International Foreign Language Teacher Education at Teachers College, Columbia University in collaboration with Beijing Language and Culture University. She was invited by The Institute of International Education to serve on the Fulbright U.S. National English Teaching Assistantship Screening Committee, and by The Illinois State Board of Education and Evaluation System to be a test developer and to serve on the Illinois Teacher Licensure Testing System Committee. For her pedagogical research and projects, Chyi has received grants and funding from the Andrew W. Mellon Foundation, the Illinois State Board of Education, the Alumnae of Northwestern University Academic Enrichment Grant, the Northwestern University Searle Center for Advancing Learning and Teaching Innovative Teaching Grant, and the Weinberg College of Arts and Sciences Hewlett Grant for Curricular Innovation.
 Chyi was the Director of the Spanish Language Program at the Department of Spanish and Portuguese (2014-2020), currently a member and the treasurer of the Council on Language Instruction at Northwestern University, and a volunteer docent at the Chicago Field Museum's Cyrus Tang Hall of China.
Back to top