Elena Lanza
Associate Professor of Instruction
M.A. University of Illinois, Chicago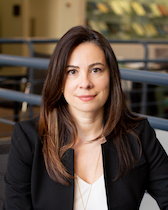 Elena Lanza is an Associate Professor of Instruction and the Assistant Director of the Spanish Language Program. She has taught Spanish language courses at all levels of proficiency at Weinberg College of Liberal Arts and Sciences as well as at the School of Professional Studies, where she currently teaches Spanish 101 (first year). 
Elena's research and professional interests include open educational resources, curriculum and assessment development, program review, and content-based instruction within the flipped classroom approach. She has been teaching Spanish since 1997 in different institutions in Spain and the US, has helped organized immersion programs for American high school students. She has also been a lead author for an on-line educational language program (EduNovela). 
Elena has collaborated with the College Board in different capacities, with a focus on the Advanced Placement Spanish Language and Culture program. She is an AAPPL rater and has served as an external reviewer for Spanish language programs at the college-level. She is an active member of different committees both on campus and nationally. 
Throughout her teaching career, she has received several teaching awards and recognitions. At Northwestern, she has been named to the Faculty Honor Roll by the Associated Student Government in 2005-2006, 2016-2017, 2017-2018, and 2019-2020. She also received the Distinguished Teaching Award for Undergraduate Studies at the School of Professional Studies in 2010, and she was the recipient of the Council on Language Instruction Award for Excellence in Foreign Language Teaching in 2022.
Back to top