Reyes Morán
Associate Professor of Instruction
M.A. University of Illinois, Chicago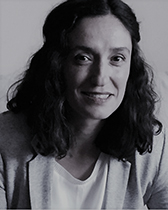 Reyes Morán is an Associate Professor of Instruction in Northwestern's Department of Spanish and Portuguese. In her native Spain, Reyes studied at the Universidad de Salamanca, one of Europe 's four oldest universities, where she specialized in Spanish Philology. After completing her undergraduate studies, Reyes continued in Salamanca with post graduate work in the field of Teaching Spanish as a Second Language and went on to teach in Cursos Internacionales, the Universidad de Salamanca's Spanish language department for non-native Spanish students. In 2006 she completed a master´s degree in Hispanic Studies in UIC.
Reyes believes that the best way to learn a language is by speaking. In her classes she strives to support this by creating an interactive and communicative environment for her students. In addition to encouraging her students to take an active role in the classroom, she works to create a comfortable setting in which students can have fun while learning.
Outside the classroom, Reyes plans to pursue research in the area of Spanish language and grammar. Her goals are to research complex linguistic and grammatical phenomenon and distill them into simpler forms, which can be easily taught to non-native students of Spanish. Beyond the area of Spanish language, Reyes enjoys reading late 19th century literature. She finds works of this period particularly interesting as they illustrate the transition of men and women into the age of modernity.
Back to top