Asha Nagaraj
Assistant Professor of Instruction
M.A. Illinois State University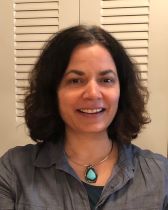 Asha's fascination with languages began early while growing up in a bilingual family in India. English and Kannada (a South Indian language) were used interchangeably by her family members and she took Hindi and Sanskrit in high school. Spanish came into Asha's life after moving to the US. She was intrigued with the beauty of the language and the various Hispanic cultures. Spanish became her major as an undergraduate and led her to a summer of study at the Univerdad Autónoma in Mexico City. She received her M.A. in Spanish literature and Linguistics at Illinois State University. As part of that program she spent a year in Madrid, Spain at the Universidad Complutense. Since earning her M.A., she has taken PhD level courses in linguistics at the University of Wisconsin, Madison.
Asha has taught at various universities in the US, such as Illinois Wesleyan, Carroll University and Northwestern. She teaches using the communicative approach, which mimics the natural ways in which people learn language, for example, through modeling and by utilizing the target language in multiple and creative ways. Asha establishes a comfortable, respectful and fun environment in order to foster stress free learning for her students. Her research interests include second language acquisition, regional language and cultural variations. Having grown up bilingual, she is aware of the challenges and benefits of this unique identity and is an advocate for heritage learners.
Asha teaches a variety of courses, such as Spanish 201: Humans Rights in Latin America, Spanish 199: Language in Context: Contemporary Spain, Spanish 125-0: Accelerated Intermediate Spanish, Spanish 121: Intermediate Spanish, Spanish 115: Accelerated Elementary Spanish and Spanish 101: Beginning Spanish. She seeks professional development opportunities through travel and interaction with different Spanish speaking cultures. She likes reading, movies and visiting some of her favorite cities – Madrid, Granada, Barcelona, Antigua, Cartagena, Arequipa, London, Istanbul, Bergen, Reykjavik, Mysore, and of course, Evanston.
Back to top