María Teresa Villanueva
Associate Professor of Instruction
M.A. Loyola University, Chicago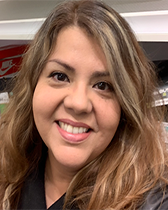 María Teresa Villanueva is an Associate Professor of Instruction in Spanish at Northwestern University. Teresa earned her B.A. and M.A. in Spanish Literature from Loyola University Chicago. She has taught several levels of Spanish courses at NU, including elementary, intermediate, and advanced classes designed for second language (L2) learners and Spanish heritage language (SHL) learners. Teresa has also coordinated Spanish 125-0 (an accelerated intermediate Spanish course) and has taught courses at WCAS, SPS, and Feinberg School of Medicine.
Teresa has developed many Spanish content courses for WCAS, including Spanish 208-0 (an advanced-level service learning course), Spanish 205-0 (an advanced-level health care course), and Spanish 127-0 (an accelerated intermediate course for Spanish heritage language students). Due to the nature of these courses, Teresa has kept abreast of current pedagogies and technology through professional education, including medical interpreting classes/training at Daley College and at the Language Access Resource Center in Villa Park, IL. Additionally, she has traveled to Los Angeles, CA to participate in Startalk, a workshop for teaching heritage language students.  Other places include Texas and Oregon to attend the National Symposium on Spanish as a Heritage Language.
Teresa enjoys interacting with students outside of the classroom. She is the co-founder and co-organizer of Tacita de Café, an extracurricular activity that brings together Spanish heritage speakers from Northwestern University, to celebrate, appreciate, and speak their heritage culture and language. She also organizes tours to Pilsen, a Spanish-speaking neighborhood in Chicago.
Teresa is originally from Guadalajara, Jalisco México and is passionate about sharing her language, culture, and experience with her students.
Back to top