Ana Thomé Williams
Associate Professor of Instruction
Ph.D. University of São Paulo, Brazil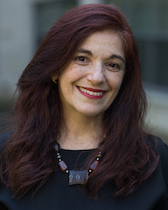 Ana currently teaches Portuguese 115 - Portuguese for Spanish Speakers, Portuguese 201 - Portuguese Reading and Speaking, Portuguese 202 - Portuguese Reading and Writing, and Portuguese 303 – Topics in Advanced Portuguese.
Her areas of research and interest are on Linguistics and Applied Linguistics to Language Learning:
Intercultural Communication
Foreign and second language acquisition by speakers of Spanish, French, English and Portuguese
Technology in the Foreign Language Classroom
Portuguese language teaching and learning in the USA

Ana C Thomé Williams holds both her MA and her PhD in Linguistics from the University of São Paulo. 
In her MA research, she did a study in Applied Linguistics where she observed the relationship between age and the onset of learning a foreign language at school. She did a study with preschool children learning English in public schools in Brazil. Her findings were published in journals in Brazil and Italy.

In her PhD research, she was concerned with cultural matters and their application to language teaching and learning. In this study she did a cross-linguistic and cultural comparison between French and Brazilian soccer announcers' discourse. She has published her research findings in the Journal of Intercultural Communication Studies. And her book "O Jogo Narrado, um cruzamento linguístico-cultural da locução de futebol no Brasil e na França", was published by Paco Editorial, São Paulo, Brazil in September 2013.

Prior to coming to the USA, Ana has taught Portuguese and French in Brazil for several years. She has founded and directed the "Centro de Estudo de Línguas do Colégio Batista Brasileiro", a language school at the Baptist School in São Paulo, which offered courses in English, French, Spanish and Portuguese.

She has also taught French, as a "Professor Assistente Mestre" at the "Pontifícia Universidade Católica de São Paulo" for 5 years.

Ana has been giving lectures on teaching and learning languages for a long time. In the last years, her focus is on Portuguese as a Second or Foreign Language. She has been to international conferences and special events in Applied Linguistics and Language Learning (as a proponent or a guest) in several countries in North or South America, Europe, Africa (Cape Verde) and Asia (Macao). Currently, she is preparing a book for Intermediate Students in Portuguese.

For Ana Williams's current Vitae
click here

 Blogs: Technology, Culture and Learning:
http://cultureandteck.blogspot.com/

Poetry and Writings in general
http://anaclo.blogspot.com/

E-mail:
ana-williams@northwestern.edu
Back to top