Why Study Portuguese?
Testimonials
 ​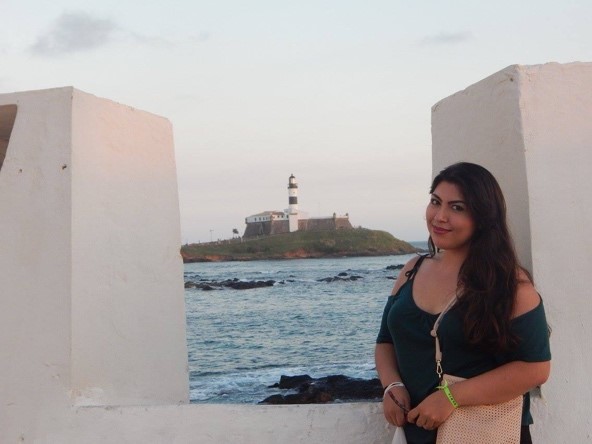 Sofia Salgado
When I entered college, I knew I wanted to learn a new language. Since I already knew Spanish, I thought Portuguese 115 for Spanish Speakers was the perfect fit! I fell in love with Portuguese from my very first class; I loved the similarities  and differences that it had with Spanish. Learning Portuguese was definitely the best decision that I made so far in college. Because I decided to learn Portuguese I won NU's Summer Language Grant, which I used to study abroad in Salvador Brazil, and the Gilman Scholarship. I also met some of the most important people in my life so far including my best friend Vitor (who is Brazilian) and is basically like the brother I never had, my best friend Martina (who is from Czech Republic and was studying abroad in Salvador when we met), and Professora Ana, who has truly been the best professor I have had so far at Northwestern. Learning Portuguese has definitely been life changing, and I cannot wait to see what other surprises come along with this experience. For all of those considering taking any Portuguese course don't hesitate and just do it! It will be worth it!
---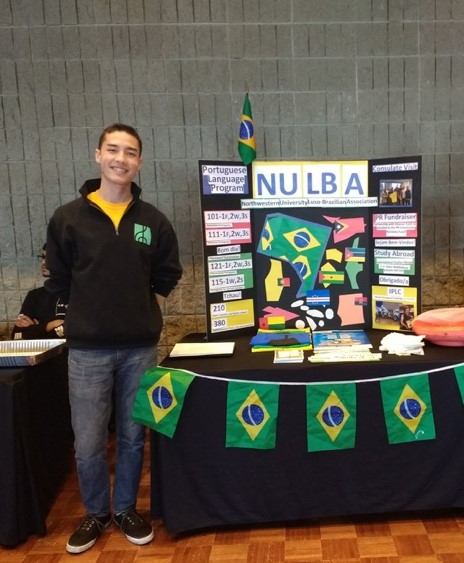 Nathan Kirchhoff
My journey with Portuguese originated from my personal relationship with Brazil. Born in Taiwan, mother actually grew up in São Paulo. Since my childhood, her profound inter-nationality inspired me to study the language of the country most unique to my family's history. I encountered Professora Ana Clotilde Williams- Northwestern's Portuguese Language instructor - during my first Wildcat Welcome Week by total coincidence at the Hinman cafeteria; I enrolled in her course and never looked back. At first, Portuguese felt tough: I hardly understood conjugation, for example, and I regularly relied on my shallow memories of the Portuguese my mother used at home when I was a child. But quickly, I fell in love with the language - and the challenge. That first year, I won a Northwestern Undergraduate Language Grant, which funded my enrollment in a language-intensive program for the summer in Florianópolis, Brazil. Besides being a fantastic dive into Portuguese grammar and training, I received what felt like my first chance to authentically perceive the country in which my mother grew up. After, I returned to school with a passion to get back to Brazil; so I studied Portuguese even harder, declared my minor in the language, and became the co-president of the Luso-Brazilian Association on campus. Upon graduating, my efforts to learn more about Brazil and share its culture at school resulted in a prestigious internship with the U.S. Embassy in Brasília, Brazil, where I worked to expand the 'U.S. Mission in Brazil's' public diplomacy goals and cultural and educational programs. With the great privilege of speaking two languages, eu espero que você aprenda português - I hope you learn Portuguese - and embark on your own journey to innumerable experiences, career opportunities, and memories beyond your imagination.
---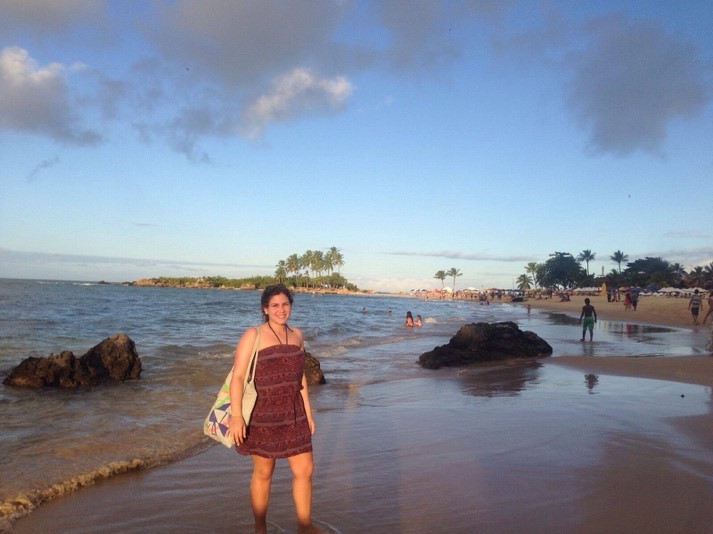 Sofia Falzoni
In preparation for my Fulbright grant to Brazil, I took the Portuguese for Spanish Speakers course.
Upon my arrival in Brazil, people were so impressed to hear an American speak such good, correct Portuguese (beyond Spanish or Portuñol). Knowing Portuguese allowed me to communicate with Brazilians at a deeper level—by knowing their language, you get a little bit closer to understanding their culture, their history. I was able to get to know and become friends with some of the nicest, happiest people on this planet.
Professionally speaking, Portuguese has opened and will continue to open many doors for me. In many instances, interviewers have told me they selected my résumé from the pile because of my Portuguese skills. Many people speak Spanish, but Portuguese will really set you apart.
For Spanish speakers considering this course: do it! Don't miss this opportunity to explore such a rich, beautiful language. You will not regret it".
---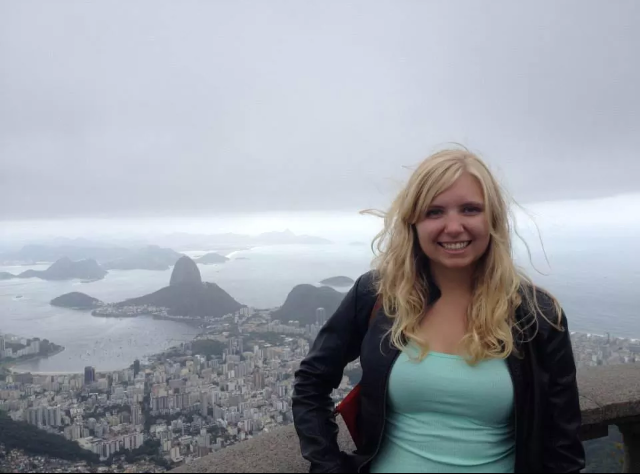 Alex Grant
As a freshman in college, I decided to pursue a Spanish major. When I needed a 4th class to fill my winter quarter, I decided to pick a Spanish elective, and found Portuguese for Spanish Speakers! After the first class with Professora Ana, I fell in love with the language, and loved learning about the subtleties and differences between Spanish and Portuguese. 
After that, I knew I wanted to study abroad, and was debating between Spain and Brazil, eventually landing on Brazil. The six months I spent studying at UFSC in Florianópolis, Santa Catarina, were by far the most amazing months of my life. I traveled across South America, speaking Portuguese, Spanish, and sometimes a mixture of the two (Portuñol), learning more than I ever thought possible. Then, once I graduated, I was presented with the opportunity to teach English for a month in Cuiabá, in the Center-West zone of Brazil. I jumped at the opportunity, and returned to Brazil to teach and travel before starting my fulltime job.
Portuguese has opened many doors for me- I have been able to use my many experiences of living in Brazil during job interviews, and have received offers because of my language skills. Learning Portuguese was one of the best decisions I made in college, and I hope anyone considering taking any Portuguese class does, because I can promise you it is a fun and incredibly valuable investment!
---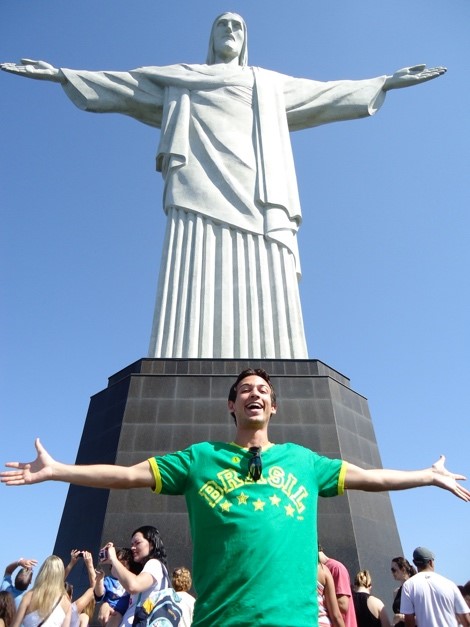 Sasha Bayan
I learned Portuguese to prepare myself for a research
project that explored Brazil's rich musical traditions, in particular
samba and choro. While I initially thought Spanish would be sufficient to get by in Brazil, I'm so glad that I took the time to go through NU's Portuguese courses -- I not only had a much easier time getting around in Rio de Janeiro but had a much more substantial appreciation of the music I studied while there.
There's also something very unique to learning Portuguese: for some reason, it seems to initiate you into a club of fellow speakers, since there are relatively few of them compared to Spanish speakers. I always feel welcomed by Portuguese speakers and get excited at opportunities to speak the language -- especially now that I'm back in the States.
For those considering learning Portuguese, I definitely recommend it --it's certainly enriched my life and I believe it opens gateways to one of South America's richest cultures.
All that said, here's a video of feeding cute monkeys in Rio.
---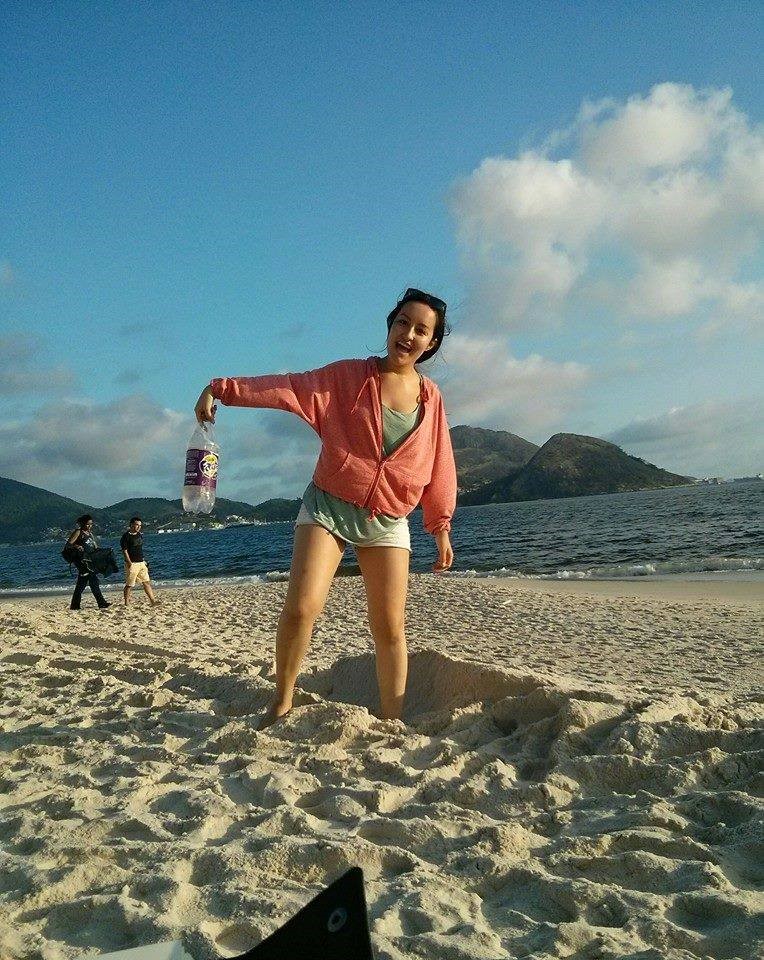 Barbara Leary  
Taking 115-1 was my best academic decision at NU. I did not even need a language, yet felt a certain draw to Brazilian culture. Once I took the class, I realized how that certain interest was really a true affinity. I loved everything 115-1 exposed me too and went to study abroad in Brazil. Thankfully, Professora Ana prepared me well--sometimes, I think, even too well. I loved having conversations about subjects talked about in class with fellow Brazilian students in both, academic and non-academic settings. After a month people were astonished to know that I recently arrived. A couple months later, Brazilians from Rio de Janeiro, known as cariocas, were mistaking me for a paulista (Sao Paulo resident). If you have a slight interest, take this class. If you have a slight space in your schedule, take this class. There's always a way--or do as Brazilians do: "dar um jeito!"
---
 8 REASONS TO STUDY PORTUGUESE AT NORTHWESTERN UNIVERSITY
1) The Portuguese Program at Northwestern University offers different courses on Language, Lusophone Culture and Brazilian Literature as well as Study Abroad Programs. Our students have won important fellowships such as the Fulbright, Circumnavigators and Language Grants to do research or study in Portuguese speaking countries.
2) Portuguese is one of the official languages of the European Union. Spoken by about 230 million people, Portuguese is the sixth most widely spoken language in the world, before German (10th), French (11th) and Italian (15th).
3) Portuguese is spoken all over the world: in Europe (Portugal and Portuguese islands), in Africa (Angola, Moçambique, Guiné-Bissau, São Tomé e Príncipe), in Asia (East Timor, Macau, Goa) and of course… in South America (Brazil). There is a large community of Portuguese and Brazilian immigrants in the United States, and the Portuguese language has become commonly spoken in several areas of the US.
4) Economy: Brazil is the 5th largest country in the world with the 8th largest economy. Rio de Janeiro and São Paulo are among the biggest urban centers in the Americas.
5) Art: The Portuguese novelist Jose Saramago was the winner of the 1999 Noble Prize for Literature. Brazilian music, festivities and movies are very much appreciated all over the world!
6) Sports: Brazil is the only country that has won the World Soccer Cup five times! Brazil 
hosted the 2007 Pan-American Games, the 2014 World Soccer Cup and the 2016 Olympic Games! Brazil has won several medals in different categories
7) If you know Spanish or other Romance languages (French, Italian, Catalan, Romanian) you will find it easy to learn. It is a plus for your CV.
8)​You will certainly enjoy our Portuguese language classes, full of cultural activities, interaction and fun!
For more information, please contact Ana Thome Williams at ana-williams@northwestern.edu
---
PORTUGUESE Students in action
In Fall 2023, PORT 202-0 (Reading and Writing Portuguese) students authored Encantamentos, a book compiled of their stories and blog posts.
 As part of the 2023 MOSTRA Brazilian Film Festival, the NU Portuguese program presented "KOBRA: AUTO-RETRATO," a film about renowned artist Eduardo Korbra. The students in PORT 115-1 (Portuguese for Speakers of Spanish and other Romance Languages) were fortunate to submit questions to the artist and receive responses: