Faculty Publications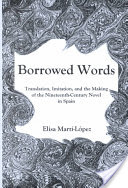 Borrowed Words

:
Translation, Imitation, and the Making of the Nineteenth-century Novel in Spain
Elisa Martí-López
Publication year: 2002
The book contends that the acceptance of translation and imitation in the literary life of a country does not imply denying the specific conditions created by political borders in the constitution of a national literature, that is, the existence of national borders framing literary life. What it does is recognize new and different frontiers that destabilize the national confines (as well as the nationalistic values) of literary history. In translation and imitation, borders are experienced not as the demarcation of otherness, but rather as crossroads in the quest for identity.
---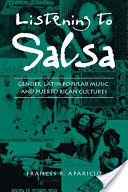 Listening to Salsa

:
Gender, Latin Popular Music, and Puerto Rican Cultures
Frances Aparcio
Publication year: 1998
For Anglos, the pulsing beats of salsa, merengue, and bolero are a compelling expression of Latino/a culture, but few outsiders comprehend the music's implications in larger social terms. Frances R. Aparicio places this music in context by combining the approaches of musicology and sociology with literary, cultural, Latino, and women's studies. She offers a detailed genealogy of Afro-Caribbean music in Puerto Rico, comparing it to selected Puerto Rican literary texts, then looks both at how Latinos/as in the US have used salsa to reaffirm their cultural identities and how Anglos have eroticized and depoliticized it in their adaptations.
Aparicio's detailed examination of lyrics shows how these songs articulate issues of gender, desire, and conflict, and her interviews with Latinas/os reveal how they listen to salsa and the meanings they find in it. What results is a comprehensive view "that deploys both musical and literary texts as equally significant cultural voices in exploring larger questions about the power of discourse, gender relations, intercultural desire, race, ethnicity, and class."
---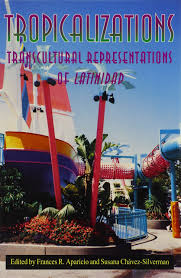 Tropicalizations: Transcultural Representations of Latinidad
Frances Aparcio
Publication year: 1997
Tropicalization, as the editors define it, "means to trope, to imbue a particular space, geography, group, or nation with a set of traits, images, and values" that are circulated and perpetuated through official texts, history, literature, and the media. With bold strokes, this collection outlines how dominant Anglo cultures have, through traditional colonizing discourses, constructed Latin American and Latinas/os in the US. It also examines how Latina/o writers and artists have internalized, appropriated, and transformed these hegemonic definitions. Focusing on literary and aesthetic production, essays explore topics such as the imbalance of power in the trans-cultural relationship, gender-based myths about Latin America and Latina/o sexuality, tensions inherent in contact zones between cultures, and the tropicalization of Cuba from within the US.
---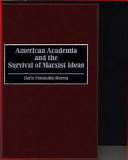 American academia and the survival of Marxist ideas
Dario Fernandez-Morera
Publication year: 1996
Marxist thought pervades American academic discourse, particularly in the humanities and the social sciences. Fernandez-Morera shows why the survival of these ideas is unjustified in the face of their theoretical and practical problems and their historical record.
Fernandez-Morera provides a comprehensive critique of Marxist/materialist discourse as it pervades contemporary American scholarship. He examines the rhetorical and ideological underpinnings of the discourse, the socioeconomic circumstances and personality type of its academic practitioners, and its impact on other forms of academic speech. He also exposes the epistemological and ethical consequences of the discourse in light of the history of the 20th century and explains its remarkable success in the academic world.
Being multidisciplinary, the book should challenge many and appeal to those interested in criticism, politics, epistemology, ethics, history, sociology, and even economics. Certainly all those interested in the condition of higher education will find it provocative.
---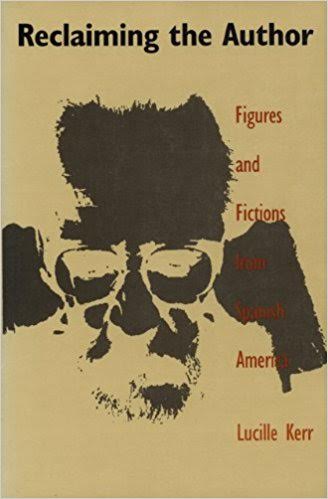 Reclaiming the Author

:
Figures and Fictions from Spanish America
Lucille Kerr
Publication year: 1992
The recent fiction of Spanish America has been widely acclaimed for its experimental and revolutionary qualities. In Reclaiming the Author, Lucille Kerr studies the sources of power of this newly emergent literature in her detailed examination of the critical concept of "the author." Kerr considers how Spanish American narratives raise questions about authorial identity and activity through the different figures of the author they propose. These author-figures, she maintains, both complement and contradict notions of authority that exist outside of the world of fiction.
By focusing on works by well-known Spanish American authors—Cortazar, Donoso, Fuentes, Poniatowska, Puig, and Vargas Llosa—Kerr shows how the Spanish Americans have formed a radical poetics of the author. Her readings demonstrate how exemplary Spanish American texts, such as Rayuela, Terra nostra, and El hablador, call into question the author as a unitary or uniform, and therefore unproblematical, figure. Individually and together, Kerr's readings reclaim "the author" as a complex critical concept encompassing diverse, conflicting, even competitive roles.
Scholars in contemporary literature and theory, in particular those involved with Spanish American literature, will find Reclaiming the Author an original and compelling book.
---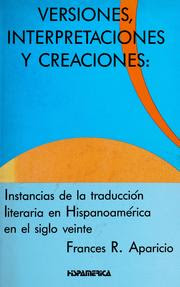 Versiones, interpretaciones, creaciones: Instancias de la traducción literaria en Hispanoamérica en el siglo veinte
Frances Aparcio
Publication year: 1991
Frente a la ausencia de estudios sistemáticos sobre la traducción literaria en Hispanoamérica, Versiones, interpretaciones, creaciones…  propone un análisis teórico del concepto de traducción en sus variadas acepciones a través del siglo XX.  Desde su significado básico de traslado interlingüístico, este concepto se despliega para pasar a adoptar otros significados:  lecturas, interpretaciones diacrónicas y sincrónicas, prácticas alternas a la creación poética y, además, traslados intersemióticos.  Haciendo uso de teorías lingüísticas, hermenéuticas, desconstruccionistas y semióticas, este libro rastrea, a partir del Modernismo, estas vertientes semánticas en las obras de Guillermo Valencia, Jorge Luis Borges, Octavio Paz y Julio Cortázar, para documentar así la relación entre creación literaria y traducción en el contexto hispanoamericano.  
English: Addressing the dearth of systematic studies about literary translation in Latin America, Versiones, interpretaciones, creaciones…. proposes a theoretical approach to the concept of translation in its diverse definitions throughout the twentieth-century.  From its basic meaning as an interlinguistic transfer, the concept unfolds and acquires new significations:  as readings, as diachronic and synchronic interpretations, as alternative practice to poetic creativity, and, even more, as intersemiotic exchange.  Deploying linguistic, hermeneutics, deconstructive and semiotic frameworks, this book traces these semantic variations from the Modernismo of Guillermo Valencia, to the works of Jorge Luis Borges, Octavio Paz and Julio Cortázar, thus documenting the relationship between literary creation and translation in Latin American letters.
---
Page 1 / 2

 / 

3 Back to top