Nathalie Bouzaglo
Associate Professor
Ph.D. New York University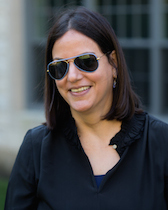 Nathalie Bouzaglo holds a PhD in Latin American literature from New York University. She specializes in nineteenth- and twentieth-century Latin American literature, with an emphasis on the modern novel and modern narratives of nation-building. She is the author of Ficción adulterada: Pasiones ilícitas del entresiglo venezolano (Editora Beatriz Viterbo, 2016). This book examines narratives of adultery from late nineteenth-century and early twentieth-century Venezuela and argues that these narratives are the site of complex and often contradictory projections regarding the establishment of a national culture in an emergent state.
Professor Bouzaglo's second book project deals with the relationship between modernismo, plagiarism, and the development of international copyright law. She is also co-editing a volume on the continuing—and profound—presence of Oscar Wilde in the politics and culture of Latin America. And she is co-developing a project called Drag Kings: An Archeology of Spectacular Masculinities in Latinø America, which uses symposia, seminars, and a co-edited volume to debate the future of gender in the contradictory space of Latino America.    
Professor Bouzaglo arrived to Northwestern in 2006. She has taught courses on Citizenship and Urban Violence in Latin America; Cultural Borders/Border Cultures; and Home, Nostalgia, and Crimes of Passion. She has served as the Director of Undergraduate Studies of the Department of Spanish & Portuguese.
Back to top