Caroline Egan
Assistant Professor
Ph.D. Stanford University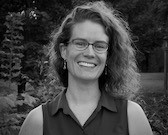 Caroline Egan specializes in the literatures and cultures of early colonial Latin America. Her current book project, "Words Made Flesh: Language, Body, and Conversion in Colonial Latin America," focuses on early modern theorizations of language and corporeality and their impact on processes of translation, grammaticalization, and conversion in a transatlantic context.
She is co-editor, with Rodrigo Cacho Casal, of the Routledge Hispanic Studies Companion to Early Modern Spanish Literature and Culture (2022) and her articles have appeared in journals including the Bulletin of Hispanic Studies, Hispanic Review, and Romance Notes.
Before coming to Northwestern, Caroline was a University Lecturer in Colonial Literary and Cultural Studies in the Spanish and Portuguese Section at the University of Cambridge and a Fellow of Emmanuel College.