Caroline Egan
Assistant Professor
Ph.D. Stanford University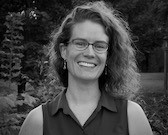 Caroline Egan specializes in the literatures and cultures of colonial Latin America, particularly 16th-and early 17th-century works in and about Amerindian languages and their circulation in a transatlantic context. She is currently completing a book-length study on the idea of orality in this era. This study examines the ways a range of different "oralities"—from singing and speaking to eating, drinking, and whistling—shape ideas of linguistic difference in the early colonial period.
She is also currently co-editing, with Rodrigo Cacho (University of Cambridge) the Routledge Companion to Early Modern Spanish Literature and Culture. Her articles have appeared in journals and edited volumes including the Bulletin of Hispanic Studies, Hispanic Review, and Cultural Worlds of the Jesuits in Colonial Latin America (edited by Linda A. Newson).
Caroline is currently the Chair (2020-21) of the Executive Council of the LASA Colonial Section. She has also served as a member of the MLA Delegate Assembly (2016-19) and the MLA Committee on the Status of Graduate Students in the Profession (2014-17).
Before coming to Northwestern, she was a University Lecturer in Colonial Literary and Cultural Studies in the Spanish and Portuguese Section at the University of Cambridge and a Fellow of Emmanuel College.
Back to top