Emily Maguire
Associate Professor
Ph.D. New York University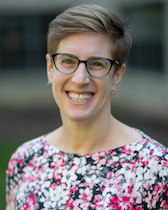 Emily Maguire specializes in modern Latin American literature and culture, with a focus on the Hispanic Caribbean and its diasporas. Her book Racial Experiments in Cuban Literature and Ethnography (University Press of Florida, 2011; 2nd edition 2018) shows how Cuban writers in the first half of the twentieth century forged a literary space in which to write the nation by drawing from two forms of expression, ethnography and literature, in their re-valorization of Afro-Cuban culture as the source of Cuban-ness. She has published articles in Revista de Estudios Hispánicos, Small Axe, A Contracorriente, ASAP/Journal, and The Routledge Companion to Latino Literature, among other places. She is the co-editor, with Kahlil Chaar-Pérez, of a special issue of Discourse: Journal for Theoretical Studies in Media and Culture on "After Glissant: Caribbean Aesthetics and the Politics of Relation" (2014).
 Professor Maguire's current book project explores the uses of science fiction in recent Caribbean literature and film. Portions of this research project have been published as: "Deformaciones literarias: Embriología, genealogía y ciencia ficción en El Informe Cabrera de José 'Pepe' Liboy" (Revista Iberoamericana 2017), and "Walking Dead in Havana: Juan de los muertos and the Zombie Film Genre," Simultaneous Worlds: Global Science Fiction Cinema, Eds. Jennifer Feeley and Sarah Ann Wells (University of Minnesota Press 2015).
Professor Maguire is affiliated with the Latin American and Caribbean Studies Program and the Latina and Latino Studies Program. She is also on the core faculty of the Poetry & Poetics Colloquium (PPC), the principal forum for cross-disciplinary, trans-historical scholarship on poetics at Northwestern. In 2017-2018 she was the recipient of a fellowship from the Alice Kaplan Institute of the Humanities at Northwestern.
Schedule an appointment with Professor Maguire 
here.
Back to top