Miguel Caballero-Vázquez
Assistant Professor
Ph.D. Princeton University, 2017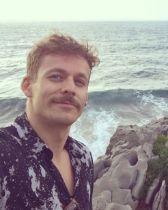 Miguel Caballero-Vázquez is Assistant Professor of Iberian Studies in the Spanish and Portuguese Department and affiliate faculty to the Department of Art History. He is currently finishing his first book manuscript, tentatively entitled The Monument of Tomorrow. Conservation and Avant-Garde in the Spanish Civil War. In the context of the 1930s total war, anti-fascism, and international communism, the book studies how writers, artists, architects, activists, and citizens at large proposed and practiced avant-garde notions of conservation and radical monumentality, which were precedents to the protectionist work later carried out during the Second World War and the emergence of the notion of World Heritage. Related to this work he has curated two exhibitions: Ephemeral Treasures in Moscow (sponsored by the Neubauer Collegium of Culture and Society) and the solo exhibition of artist Fernando Sánchez Castillo Fake Games. The Collectivized Monument in Valencia. 
For his next book project, professor Caballero plans to move from the construction of public space to private space and intimacy, which he will explore through the lens of the HIV/AIDS pandemics after the development and commercialization of antiretroviral therapies (1996-present). His ongoing exploration on this topic can be found on the platform ASS (Amor, Sexo y Serología). He is also interested in psychoanalysis, has organized the conference Freud Today at the Freud Museum in Vienna and was a Fellow of the American Psychoanalytic Association.  
Professor Caballero-Vázquez teaches on literature and art with a focus on the Iberian Peninsula, yet always in transnational context with the Americas, Northern Africa, Europe, and Russia. He welcomes inquiries to advise undergraduate and graduate projects on the historical avant-gardes and neo avant-gardes, heritage studies, medical humanities, or other topics of 20th and 21st century culture.  
Before coming to Northwestern, professor Caballero was Collegiate Assistant Professor and Harper-Schmidt Fellow at the University of Chicago, affiliated to the Departments of Romance Languages and Literatures, and Art History.